Though, the name of the wreath is not quite attractive, I had to check it out.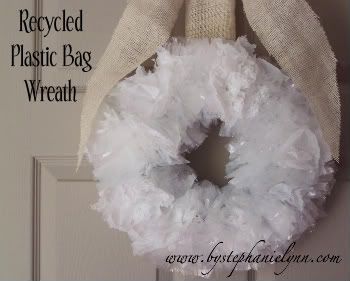 Here is her's, and I love it.
I think, though, once you read my blog, that I "re-invent" the ideas of my fellow bloggers and throw my little twist into the mix. Normally, because I do not have exactly what they used, nor do I want to load up the car with the kiddos and head to the local craft mall and get two things.
So here is my twist:
I started with the styrofoam 12 in wreath
hot glue
screw driver/ knife
trashbags, clear & white
We do not have a ton of extra trash bags lying around, so I bought some from the store. The cheap ones, this total project cost about $5!
I folded the bags three times, due to the length and the fact that I wanted a full wreath!
Hot glued the ends together and then clothes pinned them, I hate sitting around waiting for the glue to cool!
This worked better and made it go faster. I did about 15-20 bags, but needed more, so total bags ran about 30-45, but remember I want FLUFFY!
I started with the screw driver to make the holes, but wanted to make sure the bags were in there good, so I used a steak knife to dig out the hole and filled it with glue and pressed the glued end of the bag instead, making sure I had all the edges inside, so they would not fall out later.
This is what I got! I rotated two white bags per one clear bag.
The clear bags were longer and wider.
I cut the folded end with scissors and began fluffying them out, see the one I already fluffed, to make sure that I liked it. Since, the clear bags were longer I cut off about 2 inches so that they were in uniform with the other bags!
Viola!
This is what I got.
I love the fullness and the price!
Here it is over the entry table, that I will re-do later. It kinda brightens it up some!
(I did not have the flash on though)
Love it! Love it!
Linking to: